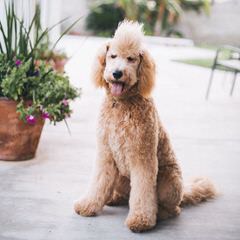 Artisan Doodles
Candace Dietz
Main streer
Payson, UT 84651
Phone: 8014265792
E-Mail: Artisandoodles@gmail.com
Your Puppy's First Home:
Your puppy will go through some of his most formative stages before he even steps foot in your home! Did you know that the vast majority of breeders do no training at all before they send their puppies to new homes?
We understand the importance of getting the most out of the short but crucial window of time we have to shape your puppy. "Teaching them how to learn" is one of the most lasting things we can do for them while they are in our care. We spend hundreds of hours training and socializing our puppies, starting from the day they are born. The difference it will make over your puppy's life is remarkable! Not only do we do extensive socialization exercises, we also start potty training from 3 weeks old using our unique, well-proven method. Our puppies also begin learning basic commands using clicker training, and should come to you with strong foundation. Please explore our site to learn more about our breeding program and what makes an Artisan puppy so special!