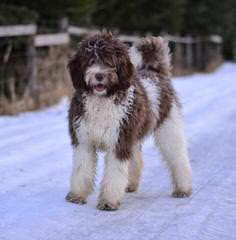 Kaosfarm Minature Goldendoodles
Joanne & Christiana Dyson NC 27320
Phone: 301-643-6055 or 301-643-5760
E-Mail: goldendoodle@kaosfarmdoodles.com
Puppies are family raised in the house and well socialized with Kids, Dogs and Cats. Parents are carefully picked by there Temperment and Health clearance.Our goal is to breed healthy, intelligent,happy dogs.
We are Expecting Puppies Nov.2011 !!!! Please call or emil for more Info !!!