More Dog & Puppy Pictures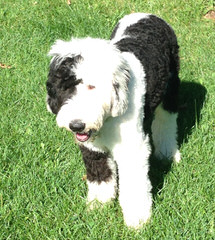 Utah Wiggle Bottoms
Cassi Mortensen UT
E-Mail: utahwigglebottoms@gmail.com
we are one of only a few breeders offering an "F1b" Sheepadoodle, which is considered the most hypoallergenic hair types possible. In addition, I have spent my entire life around dogs both as pets and training. I know what characteristics make the best pet and have been researching which temperaments and qualities are in which breeds to combine them into the best pet possible.
In order to have the best tempered and well adjusted puppies we do everything from Biosensory from birth to just over 2 weeks old, we work with them daily being touched, rubbed, held in different positions, and once they are old enough they experience multiple floor surfaces, toys, play times, rooms, environments, etc in order for them to be confident in any possible situation. These gorgeous pups also are very well socialized with kids, adults, and other animals so they fit right into any family. They are also introduced to the kennel at a young age with tons of positive reinforcement and praise. At 3.5 weeks they are introduced to a kennel and have different types of kennels within their playroom that they play and sleep in. This gets them accustomed to the feel and safety of a crate and creates positive associations so when they go to their forever homes they will adjust quickly. Our pups also start a form of potty training around 3 weeks that progresses until their are old enough to go home. This gives them a great start in their potty training in their new home!
We make sure that both our stud and Charlee have passed multiple health checks (hip/elbow joints, blood, eyes) to help guarantee that we are breeding healthy, happy, long living puppies.
For more information please visit our website!