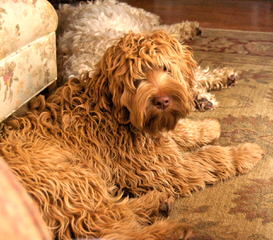 BelleauWood Labradoodles
Erin McCarthy and Megan Moore
1028 Scouters Rd
Wendell, NC, NC 27591
Phone: 9195618220
E-Mail: contact@belleauwoodlabradoodles.com
Erin and Megan began breeding the Multigenerational Australian Labradoodles in 2009. This mother/daughter team has a combined experience of almost 75 years of breeding animals with top breeding and show programs in alpacas, rabbits, dogs, goats, and sheep. Erin has an Master in Business Administration. Megan has a B.A. in Animal Sciences and minor in Genetics from North Carolina State University. Our labradoodles are a minimum of fifth generation (many over 7 or 8 generations). Our dogs range in size from 20 to 45 pounds. The colors in our program include black, chocolate, cream, red, apricot, parti, etc. We are focused on breeding for form, function, and temperament, and we very carefully select all of our breeding stock. We strive to have very satisfied customers. We want every dog to have a loving home, and for every home to have a dog they love!