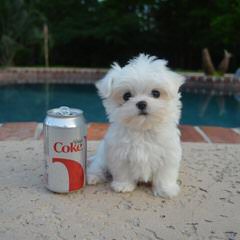 Maltese Puppies Home
tony lowanso
1580 Langston Ave SW
Atlanta, GA 30310
Phone: 6204872703
E-Mail: tonybrown00532@gmail.com
Always available are…Gorgeous ball of fluff pups looking for new homes. 2 Girls and 3 Boys available. 12 weeks old. Very playful and friendly. Short legged and short muzzle. Hypoallergenic non-shedding hair. Wormed, deflead and paper trained.
The father is a pure white KC Registered Maltese. He has 35 Champions in his pedigree, including American and Japanese lines. He is very tiny with a smooth silk like coat and a short button nose.
The mother is a Tiny KC Registered Maltese. She has many Champions in her pedigree. She is very pretty and exquisite both in looks and temperament.
The puppies are Vet checked and fully vaccinated. Comes with large puppy pack including food, toys scent blanket. Extremely tiny puppies, will be very small fully grown. Please email me for more details.