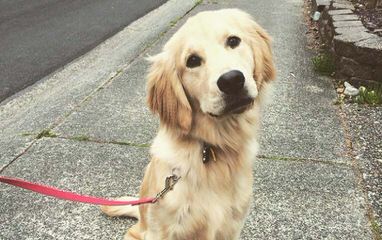 Seascape Golden Retrievers
Sue
Southern CA 92352
Phone: (310) 919-5483
E-Mail: trainedgoldenretrievers@gmail.com
Website: http://www.trainedgoldenretrievers.com
Our trained Golden Retrievers are calm and loving dogs that have completed our well rounded obedience training and socialization programs. I have been a professional dog trainer for over 20 years and have been involved in the Golden Retriever breed since 1999. Our dogs get the best of both worlds by being able to receive professional training in a warm and positive home setting. Our dogs are raised in our home with children, our own Goldens and our three indoor cats. They are primarily kennel free during that time, (with the exception of crate training during the housebreaking period). Once they are fully housebroken they are free to be loose in the house all the time. Our dogs are all reliably housebroken and have excellent manners in the house.
We offer two levels of training for our puppies and young adults, which can be viewed on the "Available Golden Retrievers" page. We also occasionally have Golden Retriever puppies available. Our dogs all receive full health clearances prior to breeding including OFA Hip & Elbow certification, OFA Cardiac certification, (done by a board certified veterinary cardiologist), and yearly OFA eye exams. We also do genetic testing to determine carrier status for inherited skin and eye diseases. We strive to produce long lived, healthy Golden Retrievers that will thrive in their new homes.