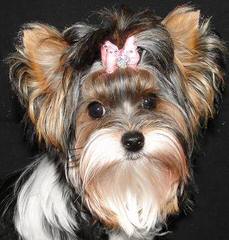 YYCrareyorkies
Ella Janikowska
4023 4 Street S.E.
Calgary AB
Phone: 403-612-4320
E-Mail: yycrareyorkies@gmail.com
Website: www.YYCrareyorkies.com
I'm a small hobby breeder, specializing in Yorkshire Terrier and Biewer Terriers and all of our dogs are raised in our home under our feet as they ARE our family. They are very well socialized being raised among other family members including young child. We strive to raise healthy, happy, beautiful, affectionate and best quality possible that gets better with each generation to come puppies.
All our parents have DNA tests done and we offer health guarantees for our little ones. Since all our moms and dads are multi-generational yorkies on a smaller scale, all our dogs do not exceed 5 lbs at maturity. Most of our litters reach 4 lbs on average. Sometimes we get them as small as 3 lbs and less. but we do not breed for that size on purpose. Our moms and dads are European imports from best lines possibly with many champions in their bloodlines.
​If you are looking for that special really tiny/teacup/babydoll face, or whatever you want to call them, puppy to fill your heart and family, just email me.