More Dog & Puppy Pictures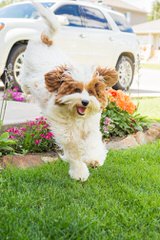 Oregon Coast Labradoodles
Tammy Greer
483 Ohio Ave SE
Bandon OR 97411
Phone: 541-301-7966
E-Mail: Tamrg77@gmail.com
Oregon Coast Labradoodles is a small operation which allows us to keep to the goal of raising high quality, healthy, happy dogs. While the health of the dog is the main focus being a small organization allows us more time to spend with each individual to provide the love, training, socialization and boundries all dogs crave. Since we are small we get to know each pup well which enables us to assist you in providing the best match for your family. All of our dogs are fully health tested prior to breeding to ensure pups are not predisposed to any genetic problems.
All of our dogs are part of the family and are exposed to day to day indoor and outdoor activities. They will be worked with on basic obedience and house training at an early age so they will have a head start before going to their forever homes. Since we work so closely with these pups we quickly become attached to each one. Ensuring that they go with great people to wonderful homes gives us great pleasure.
At this time we are providing you with Australian Labradoodles. The pups are from ane awesome line which has proven to provide some great therapy/service dogs.