More Dog & Puppy Pictures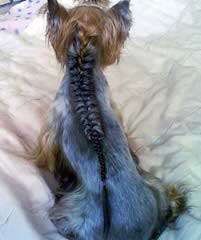 Lindner
Ramona
Stettiner Str., 14
Stolberg Germany 52222
Phone: 2402863645
E-Mail: ramli@web.de
We are 5 weeks young
Both parents are 100% pure Biewer Yorkshire Terrier a la Pom Pon emit a mini girl and a Rüde.In responsible and loving hands of the end of July.
Until delivery they are dewormed, vaccinated, microchipped and examined by a veterinarian. Both received shortly before the delivery, a health certificate that is issued by a veterinarian. The little ones are looked after from the beginning of our vet.
Our puppies grow up in the midst of the family and brought up by us with lots of love and expertise. If the weather permits, they may discover the world in the garden. From our first-class, healthy breeding of the parents, standing in the breeding of our attention that we only breed with healthy and purebred dogs. The have super coat systems, very dense, well-structured hair and very beautiful, thick coat through especially intense color pigments. Both parents have excellent papers in the lineage and have different championships and Auszeichnungen.Da not shed, they have been proven suitable for most allergy sufferers!