More Dog & Puppy Pictures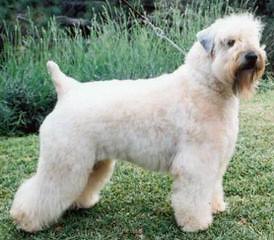 North Carolina Wheaten Terriers
Tim
Holly Springs NC 27540
Phone: 919-521-0827
E-Mail: puppies@northcarolinawheatenterriers.com
We put love and pride into each of our litters and are very proud to have you visit our home! You are welcome in our home anytime after the puppies are six weeks old. We understand that puppies sold in the mid-west, sale for less. But by the time you pay shipping or fly to get your puppy, you probably invested quite a bit more.
The dogs bred in the mid-west are very likely to come from a puppy mill. They are poorly socialized and if shipped most likely will have anxiety issued through out their life. You will not be allowed to visit the facilities. (It would break your heart if you did). Our dogs are cared for by our mobile vet. I supervise the birth and spend the first 24 hours with them! I insure that each puppy is latching to its mother and they are all getting the nutrition they need.
Our vet will visit with in the first few days to evaluate each puppy, dock their tails and remove the dew claws. He will again return when they are 6 weeks old and administer their first shots. We will give you a personal vet report on each of our puppies. Our puppies are in our home with our three boys, they are all loved held and cared for daily. You truly get what you pay for!
Deposits Currently Accepted! $300 deposit is required to be placed on our Forever Homes wait list, also gain access to our exclusive face book group which allows you to view pictures of our wheatens and speak to the other forever families about their experience.