More Dog & Puppy Pictures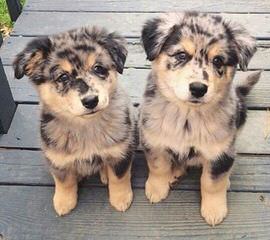 Rockin'A Aussies
Rockin'A Aussies TX 75662
Phone: 903-707-0693
E-Mail: aussies@rockinaranchtexas.com
Located in East Texas, Rockin'A Aussies are dedicated to breeding and producing top quality Miniature and Toy Australian Shepherd dogs. In our breeding program we pay special attention in selecting Sires and Dames that will produce a top quality offspring that meets and exceeds the standards of the Australian Shepherd Breed.
At Rockin' A Aussies we interact with all of our dogs and puppies several times a day, everyday. Our dogs and puppies are exposed to children, other dogs, cats, chickens, horses, and cows everyday on our property. Our 3 children spend countless hours with our dogs and puppies. This ensures that any dog purchased from us will be friendly and will already have a good start to becoming a great companion or working dog for you.
We provide all of our dogs and puppies top quality veterinary care and we give all recommended vaccines and procedures that are age appropriate for the dog or puppy. All of our dogs will be sold with a health guarantee at the time of sale.
Whether you are looking for an amazing dog to work, show, or be a great companion a Miniature or Toy Australian Shepherd from Rockin' A Aussies is sure to fit your needs and exceed your expectations. Please contact us with any questions about any of our puppies. We look forward to hearing from you.