More Dog & Puppy Pictures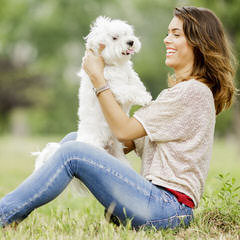 Little Patch Of Heaven Maltese
Tricia Schr
Milton Freewater OR 97862
Phone: 714-235-191O
E-Mail: littlepatchofheavenmaltese@gmail.com
A Little Bit About Us:
We are a small breeder located near Walla Walla, Washington. We take breeding very seriously and carefully plan out each breeding with the common goal of any reputable breeder, to improve the breed. We started our breeding program by selecting healthy, beautiful dogs with excellent temperments, out of champion parentage to build a sound foundation. The Lord has blessed us from there as you can see from the pictures.
Each dog we have is showered with love and affection, is on the highest quality dog food, is groomed regularly, has lots of toys, and lives as a beloved family member with us in our home. Some people may think we spoil are Maltese, but we disagree. How can one spoil pure delight!
We will be happy to send you pictures of our dogs, past litters, and provide you with many excellent references from past customers. Most of our puppies stay tiny as adults, with correct conformation like their parents. Each puppy comes with a 2 year genetic health guarantee, a spay/neuter agreement, AKC limited registration papers, veterinary exam, and is current on shots and worming.
Most of our pups are sold from people off of our interest. If you would like to be placed on our interest list for a future pup please contact us. Thank you in advance for your interest in one of our exceptionally beautiful babies.