More Dog & Puppy Pictures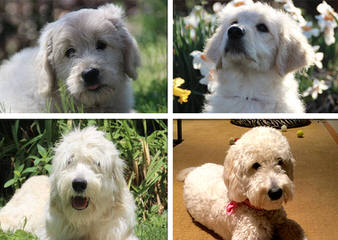 Xanadoodle
Sheron Mariah Steele
615 Canyon, Log Hill Mesa
Ridgway CO 81432
Phone: 970 626-9747
E-Mail: sheron.steele@gmail.com
XANADOODLE KENNEL is a home-based breeder outside Ridgway, CO—on Colorado's western slope. Our exceptional breeding program provides Goldendoodle, Aussiepoo, Bernerdoodle, and DoubleDoodle puppies who are well-mannered, socialized, happy, very smart, gorgeous puppies to Colorado and other parts of the America and the international community.
To our puppies, we provide the best bodies and temperaments, so they can enjoy family life to the very fullest. Most of our pups go to Pet Homes and a select few to Guardian Homes to become future Xanadoodle moms and dads. We believe that EVERY dog–pet, breeding dog, service dog, etc. deserves to have his/her very own home, love, and care.
We assure that each puppy receives initial basic training, socialization, play, and care all day long. Our babies are born at home and raised among children, neighbors and adult dogs who teach them by example: We are a pack of well-mannered, calm, secure individuals who offer puppies good adult examples of behavior. Puppies learn naturally by watching us, as well as from the active formal education we provide. When Xanadoodle puppies go to a loving permanent home, they are socialized, well-behaved. House-training crate-or-litter training began at three weeks.