More Dog & Puppy Pictures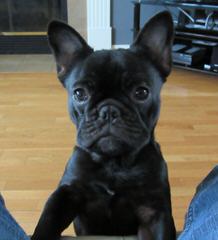 Forever At The Fountains
Bobbi King
PO Box 5023
Galt, CA 95632
Phone: 7073379223
E-Mail: ForeverAtTheFountains@yahoo.com
Bobbi King RVT 707-337-9223
I have puppies and look forward to answering your questions. There are many options, what is your budget? Full or limited and what color/DNA are you seeking? Are you interested in a ready to breed adult or puppy only?
They can go home after 8 weeks, with two vaccinations, dewormings, microchipping and veterinarian examination.
If you find that perfect fit, I have a written purchase agreement and transfers for the AKC and microchip are done online at that time.
If you neuter, sex will not matter. If not, you will pay much more for a female.
Frenchie puppies sell based on their color (with some being much more expensive than others).
Also, if you plan to breed you will need full AKC (breeder) rather than limited (non-breeder). So that can influence the prices.
I would love to speak with you further regarding your specific needs for a puppy.
I have my own puppies here too, so lots of choices! (I have a beautiful 2 acre home and facility here). I also co-own several dogs with others (so they are raised in great homes)
Thank you for your interest!
Bobbi Jo King RVT
Pet Care Consulting
(707) 337-9223
Forever At The Fountains
ForeverAtTheFountains@yahoo.com