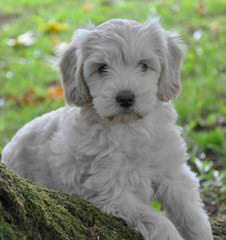 Ocean View Labradoodles
Sheri Legat
Brookings, OR 97415
Phone: 5412541204
E-Mail: oceanviewlabradoodles@gmail.com
Website: https://www.oceanviewlabradoodles.com/
Ocean View Labradoodles specialized in Miniature Multi-generational Australian Labradoodles. Sharing this breed's wonderful qualities with others and maintaining the integrity of the Multi-generational Australian Labradoodle are the goals of Ocean View Labradoodles.
All of Ocean View's puppies are born and raised in our home. The whelping area is in my bedroom, the playpen when they get older is in the living room, and when the pups are old enough to venture outdoors, an outdoor run area is made available to them during the day. They are introduced to a litter box early on, which will get them started on potty training before they leave Ocean View for their new homes. They will also be socialized with our other dogs, our cat, and children of all ages to provide them with as many experiences as possible to lessen their stress when they leave our home. When they are old enough, around 6 weeks, we get them used to being bathed in a groomer's tub and standing on the grooming table while being brushed and having their nails clipped. They have been groomed at least twice by the time they join your family. We feed both our parent dogs and our puppies a holistic dry dog food.