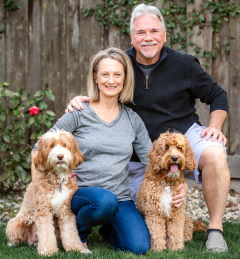 Sacto Labradoodles
Joyce Stranger
4801 Laguna Blvd., Ste. 105-136
Elk Grove, CA 95758
Phone: 9163377701
E-Mail: sactolabradoodles@gmail.com
Website: www.sactolabradoodles.com
We are small home based breeders of mini to medium sized Multi Generation Australian Labradoodles. All of our mommy and daddy dogs live in our home or Guardian Homes with loving families. We take great pride in raising the best dogs in the industry. We health test all dogs before they can enter our breeding program. We screen and carefully select forever families that will love and care for them. When the babies are ready to arrive, they do so in our home. From the day they are born, they are loved, nurtured and cared for as part of our family. They will come to you healthy, happy, well socialized and ready to play. We look forward to helping you to welcome a new puppy into your home.