More Dog & Puppy Pictures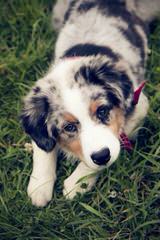 Ayrshire Acres
Dawn Croner
Phoenix AZ
Phone: 623-341-6348
E-Mail: ayrshireaussies@yahoo.com
Ayrshire Acres, is located near Phoenix Arizona. We have been breeding and showing Australian Shepherds for 15 years. We just recently added the Bergamasco Sheepdog (also known as Italian Alpine Sheepdogs) to our family.
Our dogs are more than just pets, more than just a hobby, or a past time, they are members of the family. Ayrshire Acres produces one litter every few years. We are dedicated to preserving these two versatile breeds through careful and selective breeding. Our dogs are healthy, well socialized and have the ability to excel in conformation, obedience, Rally©, agility, and herding. They are structurally sound in mind and body.
Our goal is to produce high quality conformation, athletic, companion puppies that are true in structure aligning with the breed standards with outstanding temperaments.
All sires and dams are genetically tested for hip and eye disorders
prior to breeding.