More Dog & Puppy Pictures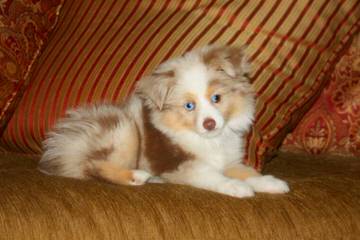 Fullerton Toy Aussies
Julie Fullerton
12015 Rd 75
Bayard NE 69334
Phone: 308-586-3008
E-Mail: fullertontoyaussies@gmail.com
Welcome to Fullerton's Toy Aussies!
Our program is made up of some of the finest individuals this breed has to offer. Everyone of our breeding dogs has their genetic testing done before they are entered into our program. We are able to offer you current, proven pedigrees, show conformation and many of our dogs have their Championships. Our girls and boys have adequate to heavy bone structure but most of all we offer some of the sweetest dispositions you will ever find. Our dogs "love" their people!! We do not run a kennel. Each and every one of our little Aussies lives with us in our home 24/7. These dogs are extremely well socialized, get along with other dogs well, live in harmony with our cat, horses & grandbabies.
We live on a 71 acre farm in Bayard, Nebraska so our Aussies have room to roam and learn about life.
Owning a Fullerton's Toy Aussie is one of life's best experiences and we welcome you to join our love for the breed.
Whether you are a first time Toy Aussie owner or just adding to your current collection, you will find that our puppies will stand up to the test of time. Fullerton Toy Aussies are Champions producing champions!! We have select individuals that will please the most ardent breeder or enthusiast.
We offer puppies that will be wonderful additions to your program for both pet owners and breeding facilities. We pride ourselves on customer satisfaction. We can supply lots of references for you of happy puppy owners who have trusted Fullerton's Toy Aussies in the past. The puppy you purchase from us is a partner for a lifetime!