More Dog & Puppy Pictures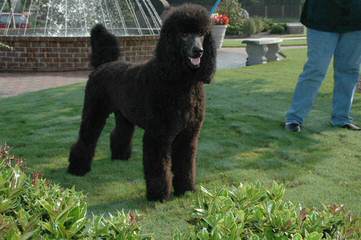 East Tennessee Standard Poodles
Sara Jane Tinker,LCSW
2003 Marshy Swamp Point
Knoxville TN 37932
Phone: 865-202-7738
E-Mail: easttennesseestandardpoodles@yahoo.com
Discriminating, Healthy, Happy Multi Color
Standard Poodle puppies located in
Knoxville, Tennessee
The Royal Size Standard Poodles
Phantom Standard Poodles
Parti Standard Poodles
The Brown & Black Line-Standard Poodles
Apricot are available on occasion
East Tennessee Standard Poodles located
at the foothills of the
Great Smokey Mountains National Park
in Knoxville, Tennessee and
started in 2008. We were introduced
to the Standard Poodle with the addition of the first
standard poodles to our dog family
Elvis Beauregard de el Sara's Slough (Elvis)
and
Coacoa Channel de Sara's Slough (Chanel)
It was a year of researching the breed and lines of the breed before these puppies were chosen to come live with us.
Hundreds of hours of the utmost attention is paid in researching pedigrees and talking with other breeders for the health, personality, and temperament of this wonderful breed before we commit to a new puppy. What we came to learn from living with Elvis and Chanel was that whether it is a beloved family pet, service dog, performance dog, obedience, or hunting dog, standard poodles have the ability to do it all! And we were hooked on this elegant, intelligent, beautiful distinction of the Standard Poodle.
We stand behind our puppies and their health. We offer a 2 year genetic health guarantee/contract with every puppy. The puppies are raised in our home and countless hours are spent caring and socializing the puppies to give them the best start in life. Once you leave the door step with your new family member
we are still available to you for life. We are contactable for any problems or moral support and reassurance for the dogs entire life. We will take back a puppy or do all we can to aid in the responsible re-homing of a puppy that cannot be kept by the original purchaser, again at ANY point in its life. We begin the basics of socialization to household life,grooming, people, other animals and also the beginnings of potty and crate training. Typically our puppies are well on their way to being potty trained by the time they leave for their forever families when the weather cooperates.
Whether you desire a charming companion, a therapy dog, agility competitor, show dog, or hunting retriever, the Poodle is so versatile. The breed is capable of almost any challenge…mostly because this breed is bright,alert and trainable. They are high maintenance, however,because of the coat which grows all over its body and must be kept trimmed. They make up for it with their extreme intelligence and delightful personalities. Please feel free to contact us with any questions you have about the breed or our poodles and their puppies.
IMPORTANT INFORMATION
We offer a two year written genetic-health guarantee.
All puppies come to you up to date on age appropriate vaccines and internal parasite treatments. Vet checked. Pedigree provided. Dew claws removed by our Vet and Standard Poodle's tails are docked into a show cut. Although we are considering leaving tails natural or docked long.
We like to know our puppies are well cared for when they leave home. We also realize circumstances change, lives change, and if for some reason you can't keep the puppy,,for the life of the puppy, we will take the puppy back and/or work to find a good re-home situation for the dog.
We never want one of our puppies going to a rescue or shelter. We're also here for your support, education, and sounding board for the life of puppy. I expect emails about the time the puppy decides he wants to chew everything in the house or when he starts teething, asking for suggestions.
.You are welcome to come meet the parents. If you are too far away to do this, perhaps you could find someone close by to do this for you. We use
Pellissippi Veterinary Hospital in Knoxville; Dr. Hackett has been my Vet for many, many years. They do all the docking of tails and removing of dew claws and provide the first vaccinations for the litters as well as care for our adult dogs.