More Dog & Puppy Pictures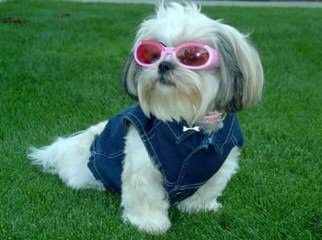 Empress Shih-tzu
Danielle Samuelson
NE
Phone: 308-991-3134
E-Mail: empresstzu@gmail.com
Website: www.empress-shih-tzu.com
We have selected our Shih-Tzu adults from some of the best lines in the United States. Our Shih-Tzu puppies are bred for health, beauty, and loving dispositions! Empress Shih-Tzu puppies have AKC champion bloodlines, and some are show quality.
We produce high quality PUREBRED Shih-Tzu! Our adults range in size from 4-10 pounds. Our puppies are raised in our home, to ensure that you are getting a socialized, healthy, happy Shih Tzu baby. Our breeding Shih Tzu are all AKC registered. Although there are many other registries available, we feel that the AKC fits our standards the best.
We specialize in all of the designer colors that a Shih-Tzu comes in: vibrant red, true blue, dark chocolate, white liver, black and tan, and the standard gold/white and black/white.
Every one of our Shih Tzu puppies come with their first set of shots, wormings, and carries a written five-year health warranty. Our babies have wonderful coats, beautiful faces, short and cobby bodies, and gorgeous heads.
Our top priority is to produce healthy, happy, high quality Shih-Tzu puppies. It is our belief that everyone should be owned by a Shih-Tzu!