More Dog & Puppy Pictures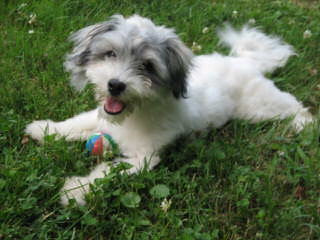 2 Cute Havanese
Lola Weston
1809 Linda Ln.
Richardson TX 75081
Phone: 469-855-7993
E-Mail: twocutehavanese@gmail.com
2 Cute Havanese offers the buyer something many other breeders do not. We heath test our adult dogs. Our dogs do not live in kennels nor do they live outdoors or in the basement or in separate building. They live with us in our home. This means for you our puppies are very socialized. Our adult dogs are cared for as the family member they are. They play with the children and grandchildren. They rest with the adults whenever a adult sits down. Havanese are called companion pets for a reason. They love their people. They are not a one person dog. Their hearts know no bounds. They are happy little dogs generally between 8- 14 lbs as an adult. They are hypo-allergenic which means your furniture is pretty much dog hair-free. These are one of the few dogs people with pet allergies can usually tolerate. They are smart and very trainable. They are somewhat new to the United States but are competing in conformation and agility very well in any of the AKC shows. They are a wonderful family pet or individual's best friend.
2 Cute Havanese offers puppies who have had their dew claws removed, seen a vet for a health check twice, been wormed, socialized, and have been micro-chipped. Our puppies are AKC registerable. We offer and encourage you to come meet the parents, the puppies and us before you make any selection. We are there for you to answer any of your questions before, during and especially after you take your puppy home. We send home with your puppy your own Havanese book we created for someone who has never owned a puppy or dog but with enough information that even a seasoned pet owner will find it perhaps new and informative.
Lastly, we believe we offer you the kind of puppy we would want to take home into our family and heart because that is exactly what we have done. We have raised the puppies to happy, loving and healthy. It is our purpose and passion to share these wonderful little dogs with all our friends and family and anyone interested knowing more about them. It is a common joke with us that Havanese are similar to chips – you can have just one. Some people have gone so far as to imply they have become infected with Havanese-fever and it is spreads quickly. We understand husbands are very susceptible.