More Dog & Puppy Pictures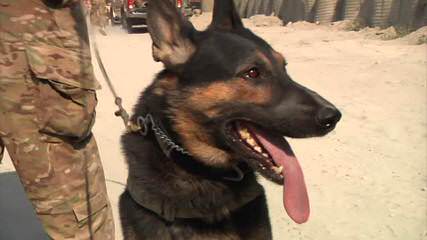 Red Barn German Shepherd
Erika Parker
755 Vernie Kirk Rd
Pocahontas TN 38061
Phone: 727-422-7176
E-Mail: Eparker4065@gmail.com
About us:
We are a small home based breeder. Niko and Kai are our family pets. They live in our home with us and have daily exposure to cats, chickens, goats and cows. They go with us everywhere and are socialized to every experience available.
We are breeding family pets, not dogs to be left tied to a tree or in a lot for security purposes.
About our dogs:
Niko and Kai are large bodied, flat backed, black and red German Shepherds. They both come from long lines of both working and show line imports. As a result these two are beautiful, intelligent, easy to train and are willing to work at whatever job is put before them, even if that "job" is chasing a tennis ball! They are even tempered and should produce pups that carry the same characteristics.
About the breed:
German Shepherds are an active breed and require owners willing to train/work and play with them to keep them happy and well balanced. They are extremely intelligent and eager to please. They have an inate protection drive and make great family pets. If you are thinking about getting a GSD puppy research the breed to make sure it will be a good fit for your family and situation. You can also call or message us and ask any questions you may have.
Cost of a puppy:
A $200 deposit is required to be placed on the waiting list for a puppy. $650 will be required when the puppies are born and the balance of $650 must be provided at pick up. If you wish to pay the balance by check then it must be sent 10 days prior to pick up. Puppies can be picked up at 8 weeks. We do not ship puppies. The order in which the deposits are received will determine the order that the puppies are picked up.
Care of the puppy:
The pups will have been wormed three times, at 2, 6 and 8 weeks and will have had their first round of shots. The pups will require two follow up shots to ensure that they are properly vaccinated and protected.
They will have been fed quality puppy food as well as venison, yogurt, and goats milk as appopriate. They will be exposed to a variety of experiences while in our home, including car rides, vacuum cleaners, baths, nail trimming, brushing, other people and other animals as is safe for the puppies.
Health Guarantee:
The puppies will come with a 26 month health and hip guarantee. All of the following must be completed or the Guarentee will be void; the dog must be registered with the prefix Red Barn German Shepherd, the pup must be seen by the buyers veterinarian within 72 hours of pick up
Visiting Puppies:
We welcome you to come and visit the puppies once they have reached 6 weeks and have had their first shots. Just call and we can set up a time. Photos will be posted frequently so all can watch the puppies grow.