More Dog & Puppy Pictures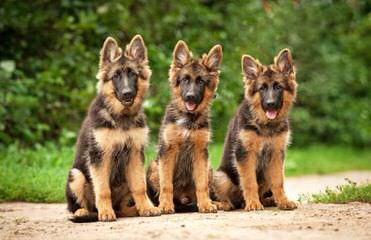 Melisa Smith K9-PINES
Melisa Smith
PO Box 782
Saluda NC 28773 NC 28773
Phone: 828-691-9720
E-Mail: k9pines@tds.net
Website: www.k9-pines.com
We have worked with the AKC GSD for 19 yrs and have various bloodlines bred for companion family pets. What sets us apart is the dogs we raise are not only dedicated family memebers but the come in the rarest most unique colors and patterns in the world.
We have traditional black/tan and sables but we also have whites, blues, livers, and even the Panda pattern as well as the brindle pattern.
Check out our personal website: www.k9-pines.com read the guest book on the first page to see what others have to say about the puppy they got from us.
We also work with very nice companion bred AKC Siberian Huskies, with full masks, blue eyes and woolly coats too.