More Dog & Puppy Pictures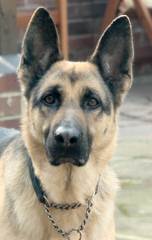 Boss K9
Anna AZ
E-Mail: bossk9gsd@gmail.com
We strive to produce German Shepherd puppies with all the characteristics to improve the breed. Our German Shepherd dogs are sought after for family companions, competition work (PSA,schutzhund, agility, obedience, herding, rally, etc.), and service work (including police service, personal protection, search and rescue, and service dogs). Only puppies and dogs of sound health and stable temperament can achieve such high levels of training. Solid nerves, super temperaments, and excellent health also making our German Shepherd Dogs and puppies excellent family companions as well!
All of our German Shepherd puppies for sale and German Shepherd breeding dogs are registered with the AKC. We offer all types of dog training and specialize in German Shepherd Puppy Classes.
If you are interested in learning more about our German Shepherd puppies for sale or the different types of training we offer, please feel free to contact us at (602) 531-8144.