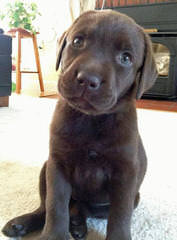 Blue Moon Labradors
Blue Moon Labradors
109th Ave.
Maquoketa IA 52060
Phone: 563-212-8199
E-Mail: bluemoonlabs@gmail.com
Blue Moon Labradors believes that temperament, soundness, good looks and working ability go hand in hand. There is no reason that a gorgeous dog can't work or that a working dog can't be wonderful to look at.
In our selective breeding program, we use only hip, eye and elbow clear stock in our Labradors thus producing dogs that show in the morning, hunt in the afternoon, play with your children and are genetically sound.
Genetics are what make the Labrador, and although there are no absolutes, Blue Moon Labradors guarantees to you that we have done all we could to live up to our philosophy.
So Why Blue Moon?…..read it again