More Dog & Puppy Pictures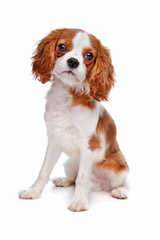 Running Horse Farm
Patty Nuth
Upper Marlboro MD 20772
E-Mail: Goosefancy1@aol.com
We are located in Upper Marlboro, Md
Our AKC Cavaliers are very special to us.
We have carefully selected our foundation dogs from healthy lines with wonderful temperaments and lovely pedigrees .
Hearts and eyes are checked and certified yearly by board certified Cardiologists and Opthalmologists before breeding.
Cavaliers are wonderful family dogs that get along well with people of all ages as well as other pets. Here they are socialized as well with our farm animals including goats, poultry, horses, and cats. Our dogs are our pets and live in the house with us. They are not kenneled.They snuggle up with us at night. They bring us joy .