More Dog & Puppy Pictures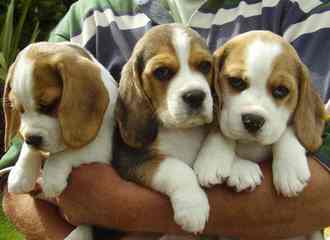 VIKRUS
IRINA KIŠKINA
Maisiagalos 71
Užuežerės km., Sudervės sen., Vilniaus raj. Lithuania LT-14016
Phone: +37067097007
E-Mail: irce1500@gmail.com
Website: https://www.facebook.com/vikrusbeagle/
We love beagles and live with them. All our puppies are members of our family and as children. Since our first Beagle in 2010 we have been in love with them as the best companions, smart and very people oriented dogs.
We are small family indoor kennel and we have a litter once in several years. Better less but better. We take breeding seriously and all our Beagle puppies come from long lines of Champions of Europe and World (W'04 SZEPHEGYI-SZIMAT VANILKA, W'00 DOROGOJ COUNTRY CLASSIC, JC W'03, W'04, SNUGGLEWOOD'S ZAFFIRO, JW'04 RED BARON SWEET PETE, W'96 DARAGOJ LOVENOTE).
All of our Beagles have daily interaction with adults and children. To keep them healthy we keep them active in our land in country side near Vilnius, Lithuania capital city. Our puppies are socialized because they live in house with children, cats and other dogs, that's why they will became best companions for their future owners.
All our puppies will be sold only with contract. Puppies can move to their new homes with first vaccinations, pedigrees and health passport. All paperworks are supplied at the time of purchase.