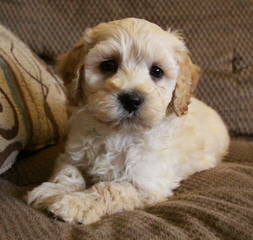 MoonShine Babies Cockapoos
Rebecca Goins
1444 Indiana Ave.
Connersville IN 47331
Phone: 765-821-0923
E-Mail: moonshinebabies@aol.com
1st & Multi Generation Cockapoos Raised in our home with love, We never kennel our dogs. All our dogs are members of our family. Our Parent dogs are very special they are registered Tharapy/Service dogs. We stay a part of every puppies life through good and bad.. We welcome any and all questions.
We Specialize in breeding Merle, Roan, Parti, Sable.